I have been trying to put into words to describe our wedding in Costa Rica…no words could ever truly encompass our overall experience. There is only one word that plays on repeat in my heart that even comes close to putting it into words…PERFECT. Everything about our special day was perfect. From start to finish, Barefoot Vacation Villas went above and beyond to ensure every detail was exactly as I had dreamed!
All great weddings start with the planning, usually with months and months of meetings, tastings, and lots of decisions. Watching my siblings get married locally, the amount of stress/anxiety they went through from planning and trying to pick the right location/vendor/cake, was a little overwhelming. My experience getting married in Costa Rica with Barefoot Vacation Villas, was completely opposite of stressful and exhausting. It was the most enjoyable experience and almost unbelievable. Pinterest became my best friend to create a dream wedding board, that then translated into one email to Pam. Wonder Woman aka Pam and her team then went to work to create magic. I provided a guest list, description of what I was expecting and they did the rest.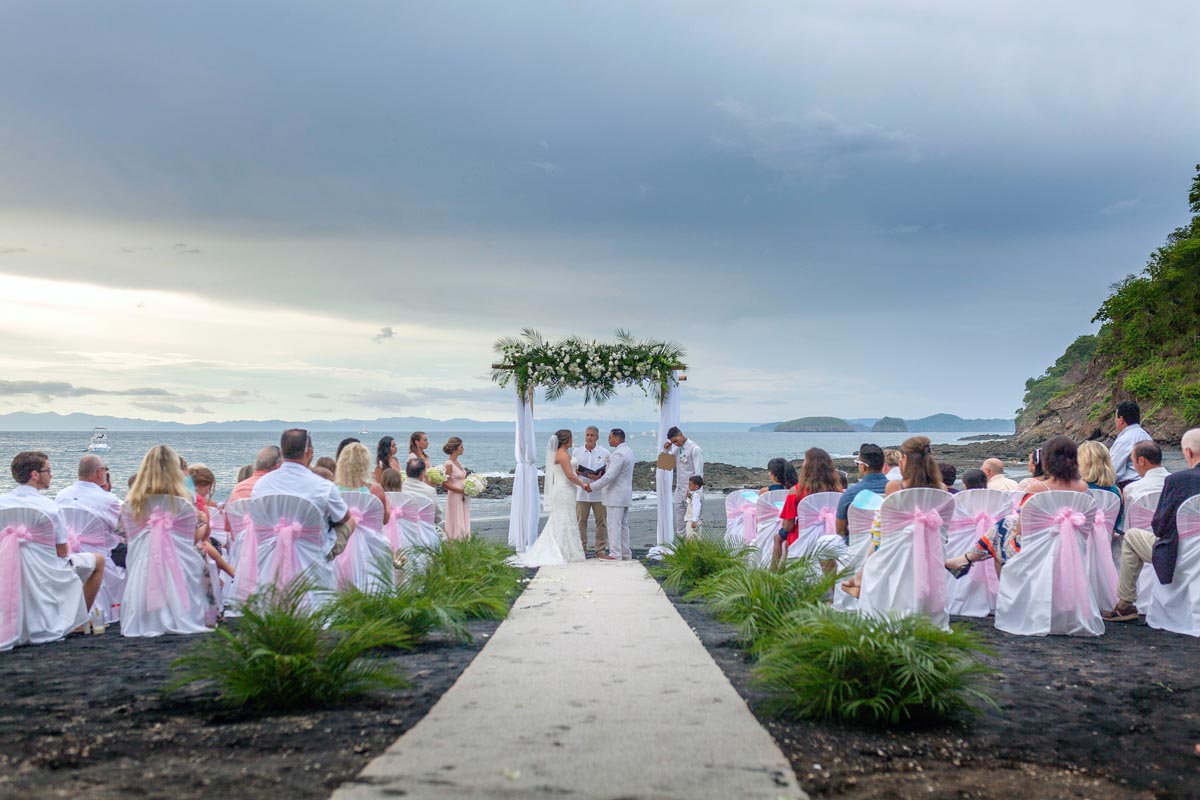 Our wedding, even with me providing pictures of what we wanted, we were still overwhelmed with the wonderful transformation that we saw at the Villa and on the beach. Not only did the decorations, flowers and cakes turn out better than we expected, the overall atmosphere just screamed LOVE. My husband and I were completely blown away by every single detail. There is a lot of stress that comes on your wedding day, the team with Barefoot Vacation Villas managed to shield us from the stress and create a warm, loving and peaceful atmosphere. We had an intimate ceremony on the beach surrounded by our closest family and friends then celebrated with an amazing dinner and dancing at Villa Cascada. Our evening was topped off with a private firework show so close you felt as though nothing else in the world existed. My husband arranged with the DJ to have one our favorite worship songs play along side the fireworks, they both ended at the exact same time. MAGICAL MOMENT! I get a tingle in my stomach and tears in my eyes when I replay that moment of sheer beauty and absolute perfection.
We would not change one single thing about our wedding or our wedding week. Costa Rica will forever and always hold a special place in our hearts, not only because beauty of the country but also because of the people. The staff at all the Villas become like family and you are sad to leave. The amazing treatment from all of the staff puts this place above and beyond any other hotel or vacation spot we have ever been to. Knowing this is a family business and they take pride in who they hire really shines through when you stay as a guest at their Villas! If I could urge any one contemplating a destination wedding, I would tell them this was the best experience of my life and would do it all over again. We cannot wait to return to the Villas and make more memories in such a wonderful place.
Pure Vida!
-Ellie (Bride)